Developed by: Ali Soltanian Fard Jahromi
Download on Steam: https://store.steampowered.com/app/1639190/Cuboid_Bouncer/
Download on Google Play: https://play.google.com/store/apps/details?id=com.SoltanianGames.CuboidBouncer
Download on Microsoft Store: https://www.microsoft.com/store/productId/9N3ZQLMB2PRR
Cuboid Bouncer is a 3D Side-Scroller video game that includes 12 levels with different challenges on each level. The player is called Cuboid (a cube like character) that must jump or bounce its way through the different obstacles. Each higher level is more challenging and difficult than the previous level. There are power-ups available that can make Cuboid jump higher or move faster. To successfully complete each level the player must successfully go to the end of the level without falling. To finish the game, the player must complete all 12 levels.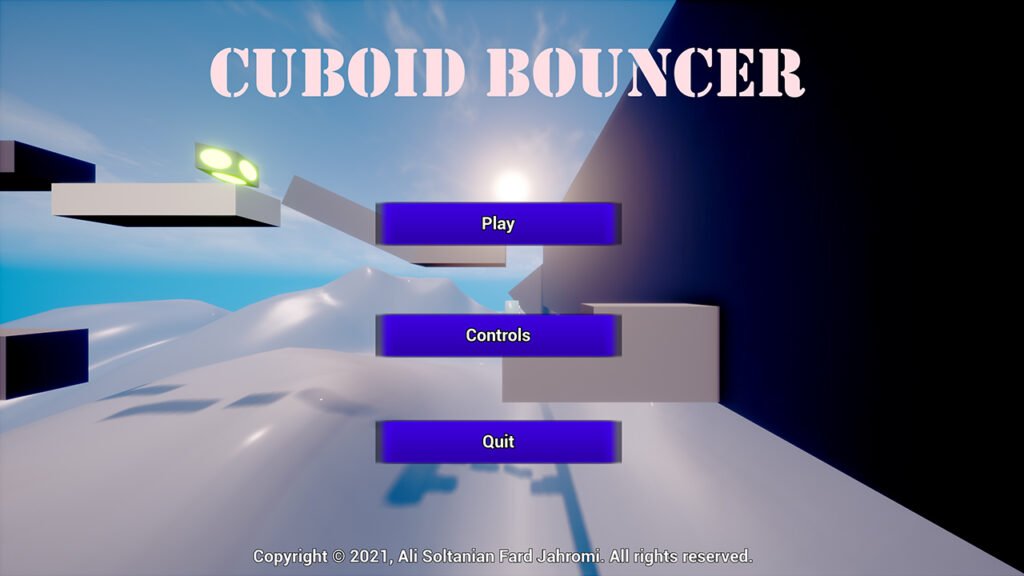 Made in 24 hours for the birthday of my sister Fatimah Soltanian Fard Jahromi.
(C) 2021, Ali Soltanian Fard Jahromi. All rights reserved.
Published by: Soltanian Games